Regular price
Sale price
$12.99 USD
Unit price
per
Sale
Sold out
Discover the majesty of nature's noble guardian in our colorful painting, The Buck Stops Here. With its powerful antlers and commanding presence, this magnificent creature embodies strength and grace. Add the untamed beauty of the wilderness to your furniture creations, inviting you to connect with the wild heart of the forest. Perfect for nature lovers and wildlife enthusiasts, this design captures the spirit of the great outdoors. 

What Makes Our Tissue Decoupage Papers Unique?
The Tissue Decoupage Papers from Whimsykel Designs stand out due to the following distinct characteristics:
Sustainability: The tissue paper is made from 100% recycled materials, making it a responsible and environmentally friendly option.
Eye-Catching Designs: 

 

The use of a four-color digital printing process, complemented by an opaque white ink base, allows our eye-catching designs to come alive.
Limited Quantity: Each of our digital designs are exclusive and produced in smaller quantities, ensuring that each design truly becomes a unique work of art in the hands of the artist.
Whether you're a seasoned furniture artist or crafter looking to add a special touch to your projects, our tissue decoupage papers are a perfect choice. Please share your creations with us on https://www.facebook.com/groups/whimsykel 
Disclaimer: Please note that the colors of printed items may differ from the digital version displayed on your screen pending the substrates they are printed on. Additionally, printed batches can vary from batch to batch, similar to the way dye lots differ for fabric.
Share
View full details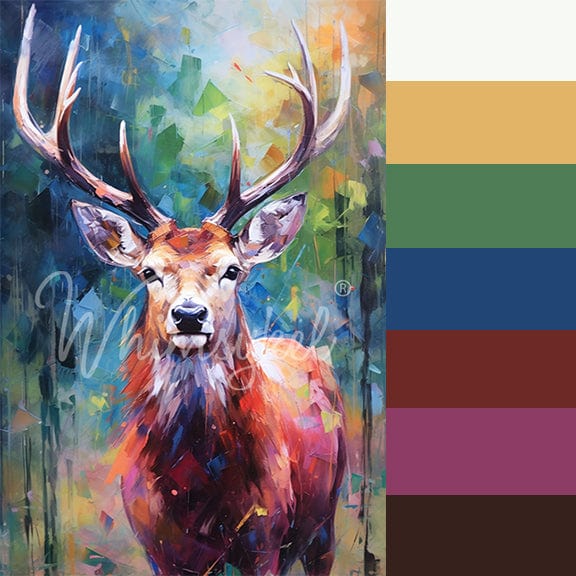 The buck stops here
I love this beautiful deer! The colors are fantastic and the paper is so easy to work with!
The Buck Stops Hee
I am loving the vibrant colors and textures of this gorgeous creation!
I'm going to need several! ❤️
Calle's ReDesigns
Beautiful buck!
Just gorgeous with so many color options! The possibilities are endless!+